BRIT HOTEL FUMEL
( Restaurant La Renaissance )
Place Léo Lagrange – 47500 FUMEL – France
Téléphone : (+33) (0)5 53 40 93 93
Télécopie : (+33) (0)5 53 71 27 94
Notre émail info@brit-hotel-fumel.fr
Our GPS coordinates :
latitude : 44,4970093, longitude 0,9684281
Means of payment :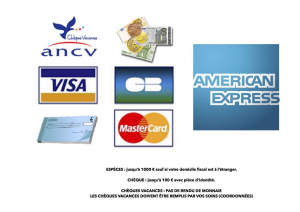 We also accept checks (from a French issuing bank),
cash ( € ),
Holiday vouchers « ANCV » and Titles Restaurant « CRT »,
Bank transfers (IBAN: contact us),
We accept deposits.
All our prices and payments are in €
---
For those who travel the old way (no GPS …)
Our access plan, when you approach Fumel :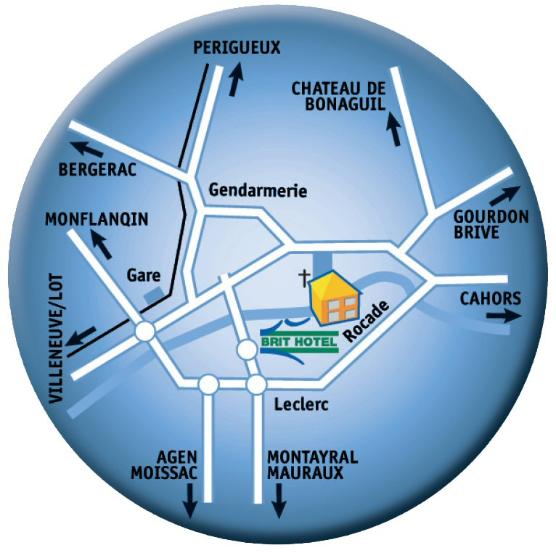 Find the hotel in the centre of Fumel, just besides the church and the Postal Office.
Do you come with a coach, bus, truck or other very long vehicle ?
We have an access plan for you: See here.
This plan allows you to park in front of the hotel, and leave easily afetrwards.
The beginning of the route starts with the red arrow marked « 1« :
Take the bridge that crosses the Lot.
Immediately after the bridge, on the mini roundabout, exit on the first road,
50 meters further allong, in front of « Gitem, turn right.
Pass in front of « Gitem », and turn immediately left.
You are now driving in parallel with the railroad (walking path now). Follow this road for 900 metres.
At the then, keep left – and you'll drive in fron of the Postal Office.
After the Postal Office, turn left and you'll be in front of the hotel.
---
This site is like any other (probably worse),
The information you are looking for is not found, probably even absent!
You can send us your questions, suggestions and comments.
---
We have 4 « antennas » (WiFi Acess Points) to ensure a good connection to the Internet everywhere in the hotel and outside.
You share approx. 24 Mbits / sec.
The password required for the connection is displayed in your room.
If necessary, we are happy to provide you with the instructions to login.
Check outhow many clients are connected right now – real time.
---
Our swimming pool – this image is from one of our surveillance cameras (web-cam),
updated every 15 seconds ! :
---
The latest items on our facebook page :